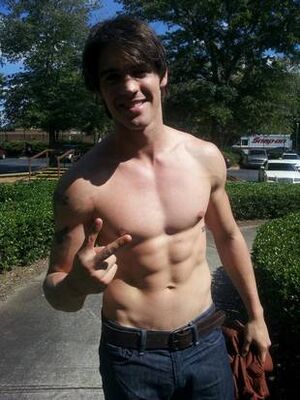 side from fanged folk, the thing most synonymous with The Vampire Diaries is sexy shirtless guys. Case in point: star Steven R. McQueen (Jeremy Gilbert) showed off his abs for a good cause on October 1 — counting down to the epic Season 5 premiere!
Production assistant Ty Armstead snapped a pic of Steven walking around casually with his shirt off and jeans hanging low on his hips, flashing a peace sign to illustrate there are two days left until TVD premieres.
"Two more days! #tvd #abs @McQueeninchains says Tune IN!! Thursday, 8 PM, CW," Ty captioned the pic. If that is a promise that Steven will be shirtless in the premiere, we're all in. Actually, we'd tune in regardless, but it's always a bonus to have some eye candy on-screen.
This is going to be a tough season for Jeremy. In the Season 4 finale, the love of his life, Bonnie Bennett, sacrificed her life for him, and now he's tasked with keeping her death a secret. While they can see each other and still have "intense chemistry," the stress will take a toll on Jeremy. He'll feel the burden of the secret, have more fight scenes, and eventually "explode"! Uh-oh.
Well, for now let's just enjoy the calming beauty of shirtless Steven, shall we? Are you nervous for Jeremy in Season 5? Sound off below, and catch the premiere on Thursday, October 3 at 8 p.m. ET on The CW.
Alyse Whitney is Assistant Editor at Wetpaint Entertainment. Follow her on Twitter and Google+.
Source: http://www.wetpaint.com/vampire-diaries/articles/2013-10-02-steven-r-mcqueen-shirtless-photo